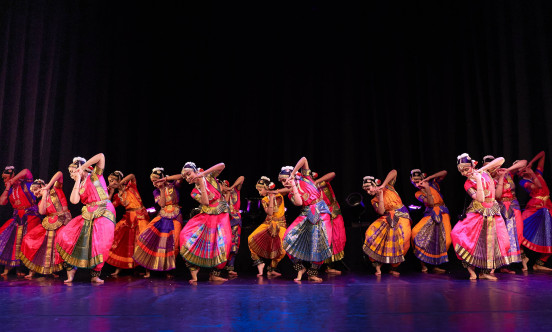 Srishti - Bharatanatyam Dance Classes
Geometry, Symmetry and Expressive Mime
Weekly (Wednesday & Saturday)
Dates & Times
Autumn Term
14th September 2022 - 26th November 2022
Spring Term
7th January 2023 - 18th March 2023
Summer Term
22nd April 2023 - 24th June 2023

Various Times - Contact for Details
Bharatanatyam is a classical dance style originating in the temples of southern India. Characterised by its strong lines, geometry and symmetry, as well as its highly expressive mime, it is probably the most popular and versatile classical Indian dance style worldwide.

Srishti – Nina Rajarani Dance School is based at Harrow Arts Centre in Hatch End, Harrow, Middlesex, and provides classes in Indian classical dance and Karnatik music from age 5 years upwards.

The school started in 1991 and is led by Nina Rajarani MBE who is the principal Bharatanatyam tutor at the school. Over the years, the school has earned itself an admirable reputation where students pride themselves upon the high standard of dancing and singing, they aim to achieve. The school emphasises adherence to the classicism of Kathak and Bharatanatyam dance and Karnatik music, ensuring training with a strong foundation firmly rooted in tradition.

The school performs publicly at least twice a year, allowing students the opportunity to demonstrate what they have learned over the year as well as giving them the opportunity to experience dancing in a performance setting outside of the classroom.
Instagram: @srishtidancecreations

Facebook:
/srishtidancecreations

YouTube:
/srishtidance

Twitter:
@ninarajarani

Srishti - Bharatanatyam Dance Classes
Dates & Times
To book, contact: danceschool@srishti.co.uk or call +44 (0) 20 8420 1076
Website: www.srishti.co.uk