Artist Callout - Tamil Heritage Month Exhibition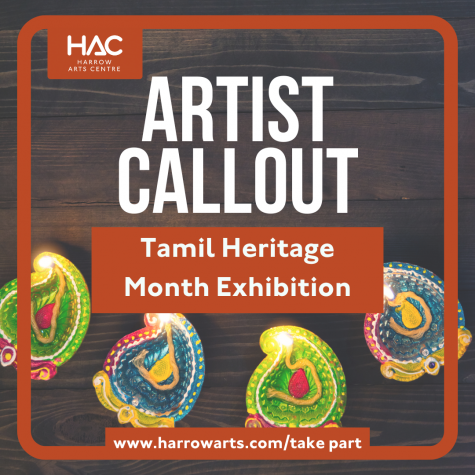 There are approximately 14,000 British Tamil families in Harrow, the 4th largest community in the Borough.
For the second year running Harrow Arts Centre will be hosting an exhibition from Friday 5th January – Wednesday 31st January 2024 that aims to creatively explore the rich heritage of the Tamil community. Tamil Heritage Month is celebrated in January to coincide with Thai Pongal, the Tamil Harvest Festival.
For this exhibition, we are calling on all members of the Tamil community living in Harrow to submit artwork which creatively expresses their heritage and culture.
We welcome all art forms including creative writing, poetry, textiles, illustration, painting, photography, and ornamental (small scale) sculpture.

If you're struggling for inspiration, start with the questions 'What does Tamil Heritage Month mean to you?'
The exhibition will open and be displayed in the white cube gallery at Harrow Arts Centre from Friday 5th January 2024 until Wednesday 31st January.

Submission deadline: The deadline for submitting is Thursday 21st December 2023. We will hang the exhibition on Thursday 4th January, so this is the very latest date we can receive submissions.

To submit: Please deliver your artwork to the box office at Harrow Arts Centre clearly labelled with your full name, a contact number, and a brief description of the artwork of no more than 50 words. This will be used later for the captions for the exhibition. Alternatively, if you would like to post the artwork, please address it to: Participation, Harrow Arts Centre, 171 Uxbridge Road, Hatch End, HA5 4EA.
You might also like...