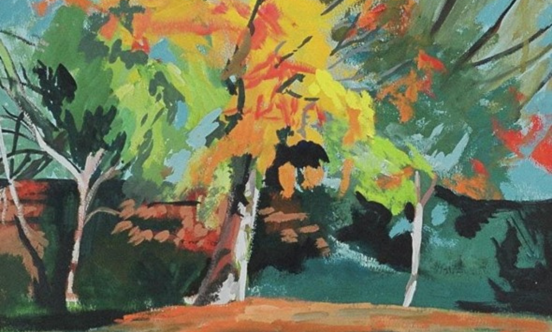 Landscapes and the Art of that Heals
Presented by HAC
By Jonathan Hutchins
–
Dates & Times
In the artist's own words…
An exhibition of 50 years of my paintings, works created across the world over 50 years.
It is well known that nature has a restorative power to heal both physically and mentally. For artists painting the natural world can be both challenging to represent but this process can also be so restorative to our well-being.
Such artworks once created, I believe, can have a spiritual presence, which is why such crafted images still have the resonance that digital, ubiquitous I-phone, images lack – that profound interaction with our human souls and our natural world.
I want to share my artworks my decades as a landscape painter from across the world. My intention is also to show specially created paintings of the trees in the grounds of Harrow Arts Centre that I will undertake this spring. To reprise such works as the autumn painting, I made at the centre in 2005.
A £1 non-refundable booking fee applies per booking transaction online and over the phone
To discuss specific access requirements or to book an access seat for in-person events, please call the Box Office on 020 3773 7161

Covid-19 safety measures are in place at the venue. (please see our 'Covid-19 FAQ's' for more information). All Covid measures are subject to change as per Government guidance.
Interested in this event?
7th - 14th June