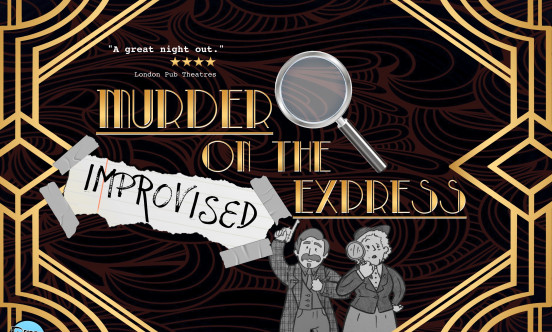 Murder on the Improvised Express
A #HACFromHome Commissioned Production
Presented by HAC
From Pinch Punch Theatre Company
Dates & Times
Mesdames and Messieurs, may I take your tickets please?
This Summer, comedy improv company Pinch Punch are cordially inviting you aboard their new show, Murder On The Improvised Express!
A train departs from a station, only for one of the passengers to be murdered in the dead of night! Our wily detective must cuff the killer, but who could it be? The problem is, we have no idea! The entire plot is up to you!
Our expert improvisers will get up on stage in front of you, with absolutely nothing prepared, and use your suggestions to improvise a dazzling, riotous murder mystery, full of intrigue and dubious accents - right before your eyes! We'll build this chilling tale, but you'll get to choose the suspects, the victim, and you might even get to decide who the murderer is!
Will you crack the case and beat the detective? Come and find out! It's the closest you can get to being part of a murder mystery without committing a crime yourself!
A £1 non-refundable booking fee applies per booking transaction online and over the phone
To discuss specific access requirements or to book an access seat for in-person events, please call the Box Office on 020 3773 7161
Covid-19 Cancellation Policy
If by order of the Government there is a Borough wide or UK lockdown, or we are placed into a tier system which does not permit this event to go ahead, we will offer a full refund to all customers. If you can no longer attend your event because you either tested positive for Covid-19 or have been instructed to self isolate we will offer you a full refund (you will be required to provide proof of a positive test or self isolation instructions). If you have any questions about our Covid cancellation policy, you can email us at box.office@harrowarts.com
Outdoor Performance
This is an outdoor performance and will not be cancelled in the event of poor weather. You are advised to prepare for all weather conditions. The event will only be cancelled in the event it is considered to be unsafe to continue (lightning, flooding etc.)

Audiences will be seated on the floor in specified zones to allow for social distancing. You are welcome to bring blankets or low backed chairs.
You CAN NOT collect your tickets from the box office. Please select 'print at home' in checkout. You can then either print out your tickets or present them on your smart phone